Casework and Specialty Fabrication:
Creoworks
For their first Cafe, Santo Coffee chose a 1300 square foot space in a newly constructed multi-use building in the Roosevelt neighborhood of Seattle, WA.   Comprising of two tall storefront window walls, views in and out of the cafe are a significant focus of the design.  To address the lack of any significant architectural detail or features of the existing tenant space, significant attention was paid to tactile materials and architectural details with the new cafe build out.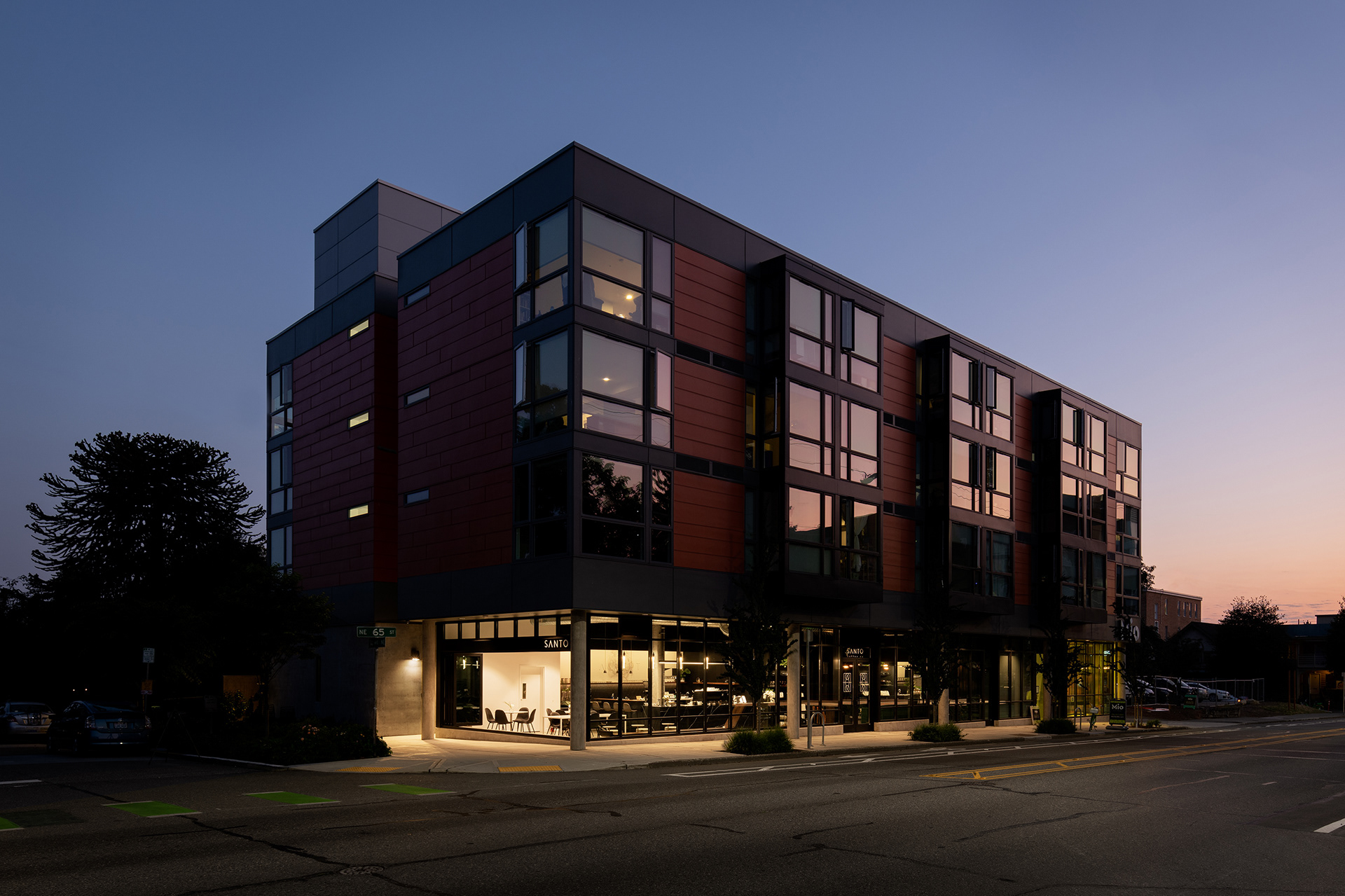 For their first cafe, Santo Coffee requested a visually unique and modern space using a material palette outside the local vernacular.  One that would be inspired by their Columbian roots, but not nostalgic.  An approachable, purposefully luxurious fine dining style cafe that respects and displays the craft of the barista.
To create an integrated massing and improve acoustics, utilities and bathrooms are tucked out of sight behind a smooth, curved wall of tactile wood tambour, seamlessly blended to the exterior walls and over the coffee bar.  
Taking full advantage of the large storefront windows, a 32 foot solid wood ribbon creates a wall bar and low slung bench with a gentle S turn weaving the two together in a sculptural gesture.  African Black Limba was selected for its energetic and spontaneous veining, however its inherent brittleness required tremendous care and attention to detail from the craftsperson to achieve the bent-from-one-piece-of-solid-wood results.  Visible from the sidewalk, it creates a conversation with the neighborhood and invites passersby to come in and explore further.  
Connecting the interior space and generous sidewalk seating through an operable 14 foot bi-fold window wall a pair of low concrete steps were added creating a seamless transition from inside-out.  Their generous depth invites patrons to treat them as furniture, casually sitting and enjoying their coffee in the morning sunlight.
The Cafe's central element and anchor for the space, the Espresso Bar was designed as if cut from a single monolithic block of striking black marble, elevated slightly on a gold base.  A subtle mural painted by a local artist decorates the back bar under a hand painted metallic gold soffit.
With Santo's focus on the quality of the client experience and the craft of their coffee preparations, the Slow Bar provides the VIP perch from which to engage the barista in conversation and enjoy a filtered pour over coffee.  Emphasizing the materiality of the space, a thick, blackened steel bar is wrapped in cappuccino colored leather and mounted to a rich matte black service bar countertop – a tactile and luxurious palette complimenting the barista's offerings.  A set of petite concrete pendants help define this important space.
At the onset of the project, the Owner's requested that the design team find a place for an emerald green couch they had already purchased and wanted to showcase.  A separate lounge space was created, off of the main seating area – a special place to relax and enjoy the atmosphere.  
To provide a counterbalance to the dark and rich cafe color palette, a vibrant, lush tropical jungle wallpaper lines the back hallway and conceals the hidden storage door.  A pair of floor to ceiling mirrored doors hide the mop closet and dramatically lengthen the space.  
Santo Coffee want to be innovators;  pioneers in discovering news ways of brewing and new coffee drinks.  They take what they do very seriously and a great deal of pleasure in serving people in the best way they can.